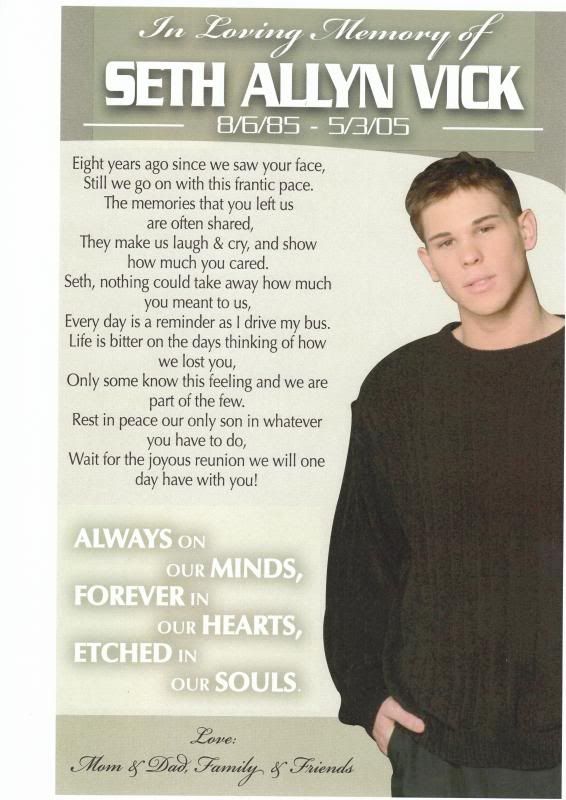 In Loving Memory Of

A Dear Son

Something will remind me
I never know just when,
It might be something someone says
And it all comes back again

The times we spent together
The happiness, the fun,
Once again I feel the pain
Of life without my Son

It's said that time's a healer
I'm not sure this is true,
There's not a day goes by Son
That I don't cry for you.


Seth I Love You & Miss You So Much! MOM




SETH ALLYN VICK was a wonderful person as we all know. He was so very kind and caring towards others and had that something about him that could always make you smile! He was born on August 6, 1985 at the Carlisle Hospital @ 6:37am on a Tuesday. Lonnie & Angie are proud parents of their only child & son, Seth.
Seth was a happy baby who always had a smile on his face. To look at him made you smile. As he was growing up he was very active. The ADHD in Seth made him a daring young man. At the age of 3 or 4 he climbed out of his bedroom window just to go up to see his BIG Gram. It didn't matter that the window was about 5 feet off of the ground. At the same age time, you could see him many times climbing to the top of the trees to jump down or even on the garage roof to jump off.
Jumping from heights backfired one time after baseball practice when he jumped off of the bleachers(about 6 foot high) and he bit a hole straight through his tongue with his tooth. Mom(Angie) had to take him to the hospital to possibly get stitches in his tongue. Seth was scared that he was gonna have to get a shot in his tongue, but instead he got nothing done for the hole. It was bad enough for stitches but the doctor said that tongue cuts heal very good naturally. Too bad the timing wasn't right, he would have had an instant tongue ring hole if he was just a little bit older but he was only 8 or 9. Through out his life Seth was full of mischievious pranks and always made people laugh. He loved to know that he made someone laugh by doing something crazy. We will forever miss this about him. In his short life, Seth was involved with one other car accident with Mom(Angie) when he was 3, oddly this was at the exact same spot that took his life 16 years later. In this accident with Mom, he did not even get a scratch. Makes ya wonder every day if this was some kind of omen letting ya know that God was gonna take him on that spot. Some day we will know for sure what the signifigance was in the particular spot when we all meet again.
In Seth's life his friends were many and he didn't care about appearances or what they did. They were his friends because he liked, loved or respected something about that person. As Seth got older that group became much bigger as he ventured out to new places on his own. His friends were faithful, loving, kind and almost always a delight to be around.
Seth graduated from Boiling Springs High School in 2004(oh what a struggle). What normal kid does like school? But he made it thru to graduate and we as parents were very proud of him for making it thru. Seth also recieved a diploma in Electronic Engineering from the Cumberland-Perry Vo-Tech School. Three years of school was so that he was able to make the music pound and blast in any vehicle. His vehicles were always outfitted with the lastest sounds and the vibration of the amp and subs would make your ears tickle. He got a kick out of showing his current vehicle off to all so that they could hear the sound system that he himself installed. Seth enjoyed helping all that asked to work on their systems. His joy was letting other people know that he did the work for his friends. Seth loved going to the beach.
He went to the beach for the first time when he was 4 years old & the last vacation that we took together was at the beach in Ocean City, MD. He was like a fish in the water. He loved swimming & especially loved sun tanning. Looking for the Girls were of course the number one thing before ever going in the ocean for surfing the waves. For the last 4 years of Seth's life, he worked at the Claremont Nursing home as a dietary aid. You might have thought that he hated it, to hear him talk some days, but he always came home to tell us the stories. These stories weren't always of the coworkers, but many were of the residents that he would associate with. Seth made us laugh many nights as he replayed the scenes of his work day. He made joy come to the residents for being a friend, helper and listener. Seth had recently become a model for the Alpha Model Group in Philadelphia.
Two weeks before his death we picked up the proofs of a recent photo shoot, he was thrilled with the results of the photos and ready to continue to the next stage of modeling. The photos are heaven sent now that he is gone. Modeling was a dream that he had and he wanted to go to California with all of the big names of TV and movies. Seth always dreamed big and said he was gonna be a star. Guess he wasn't lying cuz now he is our personal star in the sky. Besides these things, Seth enjoyed spending his free time working on his many vehicles he has had,
riding his motorcycle which he had just got in early spring, being with friends having fun and doing things with his family and much more! He was an active, fun, loving kinda guy that was taken from us on Tuesday May 3, 2005 due to a motorcycle accident. He will forever be in our hearts and loved always! We will miss him to our dying day. WE LOVE YOU SETH FOREVER MORE!








Shortly after Seth's death I went thru his saved favorites on his websites. Many were of car & audio sites that he loved to dream about getting things, but the top one is what just made me cry & cry. When I opened the site to see what it was this poem was the first thing that I saw. It made me think that somehow, maybe not conciously, Seth may have known that he was gonna die. They say that you do have an idea of when your time is coming & this poem tells it all!

FROM SETH HIMSELF!

In the event of my Demise by Tupac

In the event of my Demise
when my heart can beat no more
I Hope I Die For A Principle
or A Belief that I had Lived 4
I will die Before My Time
Because I feel the shadow's Depth
so much I wanted 2 accomplish
before I reached my Death
I have come 2 grips with the possibility
and wiped the last tear from My eyes
I Loved All who were Positive
In the event of my Demise

Rest in Peace my Dear Son, I love you so!








IF TEARS COULD BUILD A STAIRWAY,
AND MEMORIES A LANE,
I'D WALK RIGHT UP TO HEAVEN,
AND BRING YOU HOME AGAIN!
WE MISS YOU SO MUCH!









Some wanted directions to Seth's

Grave, here they are:

*From High Street turn onto College St
if coming from square: turn right
if coming from Newville: turn left
*Stay on College St for 5 blocks(Tire & Wheel)
*Left on Rt 74 North(go towards the Mountains)
go over creek, past North Midd. Park, up hill past trailer park
*Left in Church of God
Stay to the right parking lot of church, you will find
Seth's Stone in 2nd row, little to the right

Please feel free to let anything of your choosing! PS. We do occasionally have to take things off, so if you want something back just call me. Hope this helps you!

Angie & Lonnie & Steph



"You don't get over it,

you just get through it.

You don't get by it,

because you can't get around it.

It doesn't 'get better';

it just gets different.

Every day... Grief puts on a

new face..."










Don't cry because it's over;

smile because it happened.






3 Months old & already a cutie!






BUT YOU DIDN'T SEE ME

I saw you hug your purse closer to you in the grocery store line.
But you didn't see me put an extra $10.00 in the collection plate last Sunday.

I saw you pull your child closer when we passed each other on the sidewalk.
But you didn't see me playing Santa at the local mall.

I saw you change your mind about going into the restaurant.
But you didn't see me attending a meeting to raise more money for the hurricane relief.

I saw you roll up your window and shake your head when I drove by.
But you didn't see me driving behind you when you flicked your cigarette butt out the car window.

I saw you frown at me when I smiled at your children.
But you didn't see me when I took time off from work to run toys to the childrens hospital or to the homeless.

I saw you stare at my long hair.
But you didn't see me and my friends cut ten inches off for Locks of Love.

I saw you roll your eyes at our leather coats and gloves.
But you didn't see me and my brothers donate our old coats and gloves to those who had none.

I saw you look in fright at my tattoos.
But you didn't see me cry as my children where born and have their names written over and in my heart.

I saw you change lanes while rushing off to go somewhere.
But you didn't see me going home to be with my family.

I saw you complain about how loud and noisy our bikes can be.
But you didn't see me when you were changing the CD and drifted into my lane.

I saw you yelling at your kids in the car.
But you didn't see me pat my child's hands, knowing he was safe behind me.

I saw you reading the newspaper or map as you drove down the road.
But you didn't see me squeeze my wife's leg when she told me to take the next turn.

I saw you race down the road in the rain.
But you didn't see me get soaked to the skin so my son could have the car to go on his date.

I saw you run the yellow light just to save a few minutes of time.
But you didn't see me trying to turn right.

I saw you cut me off because you needed to be in the lane I was in.
But you didn't see me leave the road.

I saw you waiting impatiently for my friends to pass.
But you didn't see me I wasn't there.

I saw you go home to your family.
But you didn't see me Because I died that day you cut me off.

I was just a Biker,
A person with friends and a family.
But...you didn't see me.


PLEASE LOOK FOR MOTORCYCLES

LOOK TWICE; IT MIGHT SAVE A LIFE!







We Remember Them

At the rising of the sun and at its setting,
We remember them.
At the blowing of the wind and in the chill of winter,
We remember them …
As long as we live they too will live, for they are a part of us, as
We remember them.


By Sylvia Kamens and
Jack Riemer





PLEASE LIGHT A CANDLE IF YOU

VISIT, THANK YOU FOR

TAKING THE TIME TO VISIT OUR

PRECIOUS SETH!



8-6-1985
5-3-2005





Painting done by Seth's Friend Shaun Quickel

WAYS THAT YOU MAY HELP ME IN GRIEVING

1. BE THERE FOR ME. If you are my friend, reach out, talk to me, hold my hand, hug me. Know that even though we may say we are all right, we will never be all right again.

2. WE ARE DIFFERENT. Understand that what has happened will change us forever and if you are my friend, you will accept me for what I have become, for who I am now, a person with different goals and different priorities. What was once important to me may no longer have any meaning.

3. BE A GOOD LISTENER. We want above all else to talk about our children. To us, they will always be alive in our hearts, and we don't want others to forget them either. Don't be afraid to mention their names in our conversations. They were real people at one time, even though they are no longer with us. They had hopes and dreams we'd still like to share with others. Please don't ever pretend that they never existed by not talking about them.

4. NO ONE ELSE KNOWS HOW I FEEL. We all grieve differently, even husbands and wives. Please don't tell me you know how I feel. You don't, unless you too have lost a child. Rather than asking me, "How are you feeling?" ask me "What are you feeling?" I can probably give you a more honest answer.

5. I MAY GRIEVE FOR A VERY LONG TIME. There is no set time limit to my grief. It may take me two years; it may take me five years, it may be a lifetime. I have to do what is comfortable for me. Be patient. I will do the best I can in whatever amount of time it takes.

6. KEEP IN TOUCH. Call me once in a while. I promise to try to do the same. Invite me to lunch or to a movie. I will eventually go, because I will eventually feel better. Don't give up on me and don't forget me. I am trying to do the best I can right now.

7. I MAY CRY AT TIMES IN FRONT OF YOU. Please don't be embarrassed, and I won't be either. Besides being a natural emotion, crying is also a cleansing emotion. By crying I can relieve a lot of anger, frustration, guilt and stress. And best of all, I feel much better after a good cry.

8. I PUT A MASK ON FOR THE PUBLIC. Don't assume just because I am functioning during the day that I am 'over it.' I will never get 'over it.' I try to function normally because I have no other choice. You should see me when the day is over, and I am in the privacy of my own home and free to let my emotions out. My day mask comes off and I am just a mother, aching for her child.

9. SOME DAYS MAY BE OVERWHELMING. The slightest thing can trigger a bad time. It can be a song, a place I go, a holiday, a wedding or even smells or sounds. If I break down and start crying or seem to be in another world, it is because I am thinking of my child and longing for what I will never have again.

10. LET ME DO WHATEVER MAKES ME HAPPY. Don't think me strange if I want to go to the cemetery a lot, if I want to buy a brick in honor of my child in every new building in town, or if I want to try to get new laws passed to keep this world safe for our children. I may need to try different things before I find what will be right for me in my new life. Encourage me to reach for the stars.

We will never ever forget our children. The pain never leaves us. It just softens a little with time. We eventually function again, feel hope again, find joy in our lives. It is a long road that we travel with many emotional roller coasters, but with the help of friends and relatives who understand a little of how we feel and what we are going through, perhaps that road will lead to new paths to enrich our lives in new ways we never dreamed were possible.




VISIT JESS GAUMER'S SITE
LEAVE A MESSAGE OR LIGHT A CANDLE
http://jessica-gaumer3.memory-of.com/about.aspx


VISIT JOSH WENGER'S SITE
LEAVE A MESSAGE OR LIGHT A CANDLE
http://www.joshua-lee-wenger.memory-of.com/about.aspx

VISIT ELIOT OVER'S SITE
LEAVE A MESSAGE OR LIGHT A CANDLE
http://www.eliot-over.memory-of.com